Digital Channels to Support Youth Mental Health
AIM x OTR x SOS x Youthline x PleaseStay x Zoala | Well-Being Series
Log-in details and reminders will be emailed by Zoom (under AIM SG name) automatically following your registration. Please do look for them under your spam or junk email folder in case you don't see them and add our email hello@asiainstituteofmentoring.com to your safe list/whitelist to receive the login, news & updates.

Synopsis
Mental health is a clear and urgent modern-day issue - it is the next major epidemic. Youth mental health issues have been on the rise, even before the onset of the pandemic. Youth suicides have been going up steadily around the world. In Singapore, suicides for youths aged 10-19 had doubled year-over-year. Suicide is now the leading cause of death for youths for this age group. 22% of children in Singapore have suicidal thoughts. More and more young people are engaging in self harm. 
The COVID-19 pandemic has only exacerbated an already alarming situation - especially among youths. In recent years, mental health disorders and concerns (i.e., depression, anxiety) have continually been rising. About 1 in 3 Singaporeans has reported internalizing such as sadness, anxiety and loneliness, a national study has found, with those between the age of 14 to 16 reporting more serious problems. Adolescents with mental health conditions are particularly vulnerable to social exclusion, discrimination, stigma (affecting readiness to seek help), educational difficulties, risk-taking behaviours, physical ill-health and human rights violations. It is a crisis that needs immediate attention and action. 
In this webinar + fireside chat series, we'll talk to the leaders of four leading organizations providing Digital Channels to support youth mental health in Singapore, Over-The-Rainbow, Samaritan of Singapore (SOS), Youthline.sg and Zoala, and explore what more can be done to provide support for youth in the mental health space.
Over-The-Rainbow (OTR) is the mental wellness initiative of the WholeTree Foundation, the not-for-profit family foundation of Yen-Lu & Yee Ling Chow founded in loving memory of their dear son and only child  who ended his own life at the age of 26 after suffering for many years from manic depression. 
OTR is a one-stop hub for youth mental wellness. Our mission is to transform mental wellness for the 21st century:
Propel mental wellness to the top of life's priorities;

Create a community based on the timeless wisdoms of love, compassion, truth, beauty, harmony, generosity, joy and service;

Empower young people on their journey of self-discovery, healing and transformation - to overcome life challenges, realise their full potential and attain true happiness and optimal wellbeing.
We provide an environment where young people can find themselves, discover their higher self, connect to their purpose and spread their wings - and where they can transform and transcend - via holistic self-care and a supportive community.
Since launching in October 2012, OTR has been a pioneer and trailblazer in the space of youth mental wellness - innovating and pushing the mental health envelope with outreach events, community initiatives, media projects, mental wellness programs, workshops and festivals, volunteer training programs, peer support systems, online support platforms, mental wellness magazines, newsletters and social media campaigns. These initiatives and activities collectively has touched nearly a million lives through both online and offline touch-points, and transformed many others. 
From an organization that pioneered mental wellness as a journey and championed prevention and preemption over clinical intervention with innovations such as Holistic Self-Care, Circle-of-Care, Guardian Angels, Wellness Space, Mental Wellness Festivals, Youth Matters, Circle-of-ConneXion, OTR Listens, Think x Rainbow, Rainbow Connection magazines and a change inside-out approach to life and human wellbeing, innovation is a constant driving force for positive change. 
What started from the ashes of a heart-shattering family tragedy has transformed into a thriving organization with a mission that turned into a movement to transform mental wellness for the 21st century.
Samaritans of Singapore Limited (SOS) is dedicated to providing confidential emotional support to individuals facing a crisis, thinking about or affected by suicide.
Non-religious and not for profit, our work focuses on crisis intervention and suicide prevention.
Youthline Ltd was founded with the vision of providing an integrated youth service to support young people who need help, regardless of race, religion or economic background.
The three pillars of our service model are a live helpline, free counselling/referral services and a peer mentoring programme.
Zoala is an AI-based mental wellness app for adolescents that is trained to understand the everyday concerns of adolescent life and offer practical advice, support, and guidance that can help improve their mental health.
Asia Institute of Mentoring (AIM) is a non-profit volunteer based organization with a mission to bring mentoring to the spotlight in Asia, raise the quality of mentors and the standard of mentoring, bringing mentoring to all facets of society to impact millions of lives. 
We are committed to create an Asia-based people-powered mentoring movement to move people … to learn, to share, to give forward, to transform, to harness the deep human potential, and create social impact – bringing about a kinder, gentler, more inclusive, just and sustainable world for all.
Join us as a member here.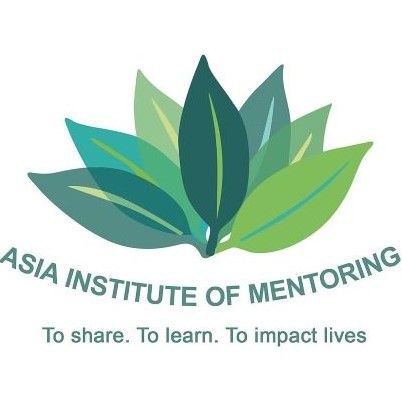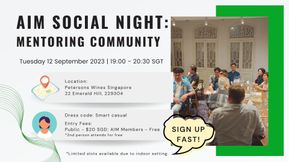 Join us at Petersons Wines Singapore for an evening of networking over a wine tasting session.
Get to connect with like-minded individuals who are in the mentoring space and collaborate further to work towards a bigger goal/dream.
These social night events are held 3-4 times a year, and slots are limited due to indoor seating. Keep your eyes peeled for the upcoming one in December!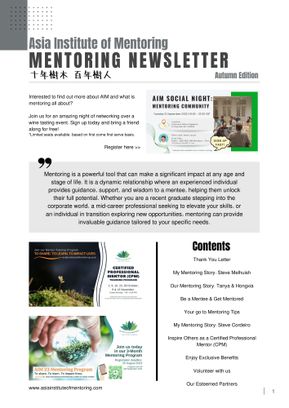 Check out our latest mentoring newsletter featuring our AIM Mentors and their stories.