Certified Professional Mentor (CPM) Program
18/04/2020 09:00

to

23/05/2020 17:00

(

Singapore

)
Event registration is closed.
---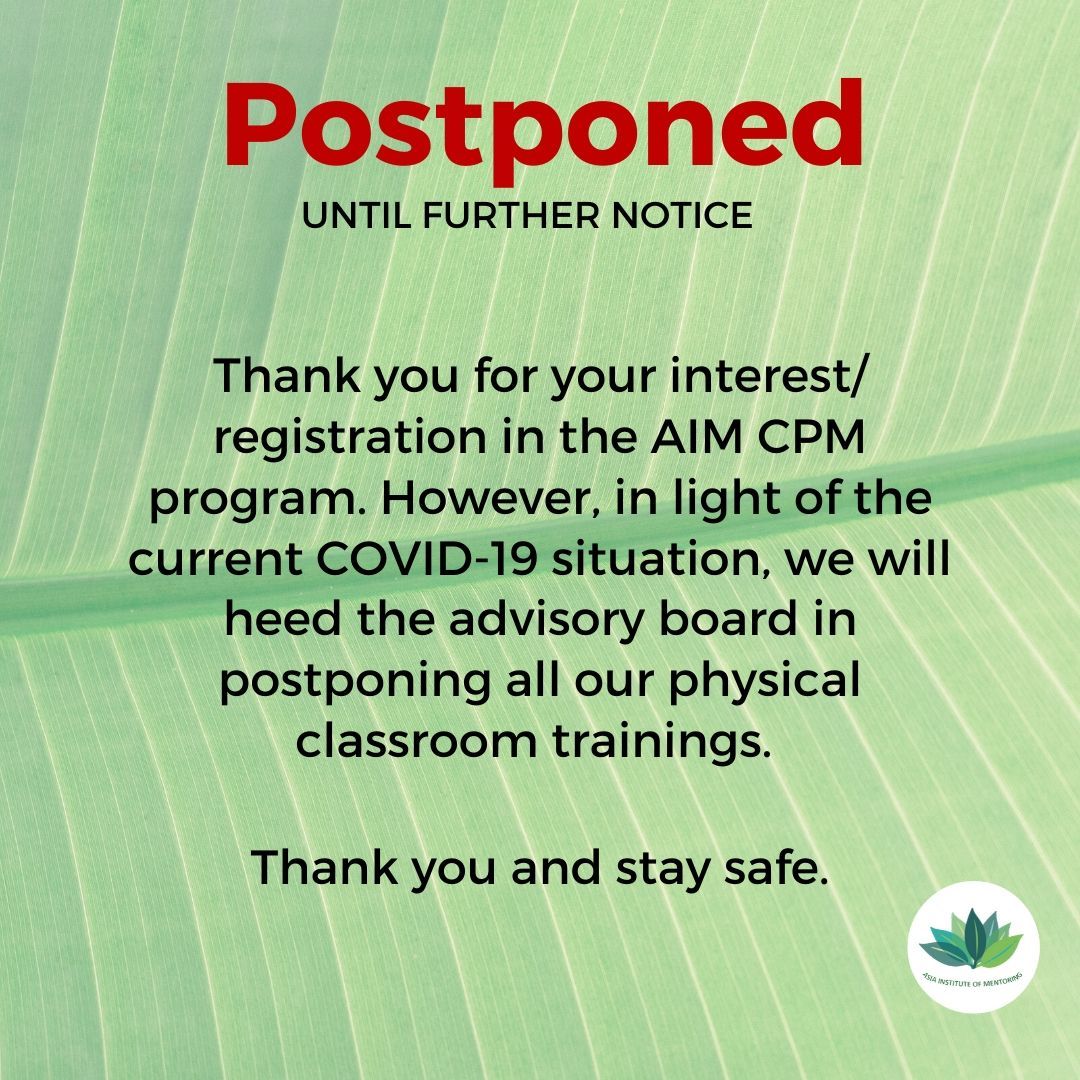 Are you interested in empowering and inspiring those around you?
Join our mentor training course! 
Dates: 18 & 25 Apr,  16 & 23 May
Time: 9.00am to 5.30pm 
Venue: 22 Emerald Hill Singapore
Program Outline:

Session 1: About Mentoring 18th April 
Session 2: Mentoring Inside Out 18th April 
Session 3: Skills and Strategies for the Mentoring Journey 25th April 
Session 4: Practical Skills of a Mentor 25th April 
Session 5: Making Change Happen 16th May
Session 6: Mentoring - The AIM Way 16th May
Session 7: Putting It All Together 23rd May


This CPM program is part of a broader strategy to bring Mentoring to the forefront of personal development through a formalized training and certification process. It is our mission at the Asia Institute of Mentoring (AIM) is to build a kinder, gentler and more inclusive society through mentoring.
OUR PURPOSE
As a community, we believe many of the social, workplace and economic issues of our time can be addressed through mentoring. Cultivating a community of qualified mentors would allow the impact to be scaled quickly to see a positive outcome. Through the CPM program, we aim to develop a community of professional mentors based on a consistent learning and sharing platform, comprising a dynamic curriculum and program with robust foundational units and specialised electives tailored to specific mentoring outcomes.
SELECTION CRITERIA 
Class size is limited to a maximum of 25 candidates. If YOU are someone passionate, fully committed and keen on giving back– without expectations – and are a caring, responsible, adult volunteer who will serve as a trusted guide and friend to another, this program is for you. The A.I.M platform will ensure the development of important knowledge and life skills, and exposure to new opportunities (thru the network, relationships, resources and community support).
As part of the CPM certification process, the candidate must formally commit to:
Contribute to 2 mentoring practicum cycles (each 3-6 month duration) within a 6-9 (and no longer than 12) month timeframe for a minimum total of 24 hours;

Engage in a mutually agreed-upon mentoring activity; communicate weekly (by SMS, WA, phone or email), to maintain connectivity with the program and your mentee(s);

CPM certification issued upon satisfactory completion of this mentoring practicum.
ELIGIBILITY REQUIREMENTS
5 years of work experience 

Complete the required candidate admission questionnaires;

Exhibit a strong commitment and passion to see things through, with a strong sense of self-awareness and curiosity;

A strong desire to contribute to the growth and development of another through mentoring, to co-create a kinder, gentler, more inclusive, juster and more sustainable world.
NEXT STEPS & PROGRAM FEES 
If you are keen to develop your career, professional knowledge, skills, network and relationships, are able to commit the time, and want to develop as a person and a mentor, please indicate your interest by completing the CPM admission questionnaires (by clicking here and only if you haven't already completed these questionnaires previously).
In addition to filling out the CPM questionnaires, you'll need to sign up for the program via the Register Now button provided above. The CPM program registration fee is S$500. This fee includes the four-day CPM training, one-year A.I.M Membership (value: $200) with full access to all tools, resources and mentoring electives as well as support on your mentoring journey. This program is highly subsidised by A.I.M as we are a not-for-profit organisation. 
We look forward to welcoming you onboard our Certified Professional Mentor (CPM) Program.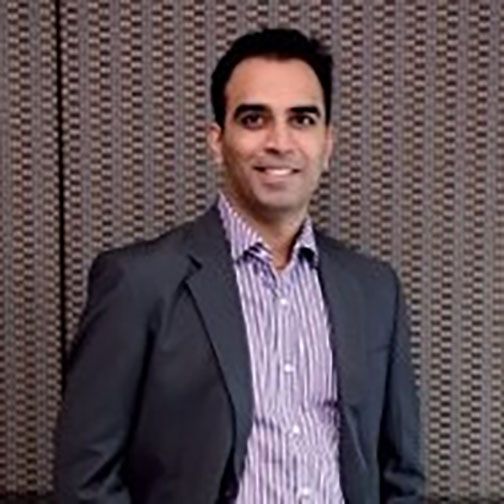 Sandeep Chanana
HRBP HR Transformation HR M&A
"The CPM program has possibly given me a clearer path and an opportunity to be able to give back to society by touching lives in the most positive way. This program is purely for those motivated individuals who wish to benefit the society with their experiences and a structured mentoring mindset without any expectations of returns and who are willing to invest not just their time, but their heart and soul towards the cause.  The practical role-play approach, the vast experience of the facilitators and peer feedback has surely helped the objective of helping us understand our own weaknesses and being ready to take on mentoring as a lifelong journey."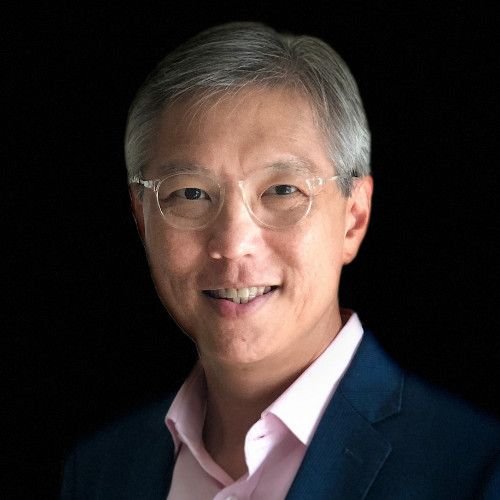 Michael Boey
PCCLeadership and
T
eam Coach
"The Certified Professional Mentor (CPM) program organised by the Asia Institute of Mentoring does not just impart critical mentoring skills but inspires its attendees to be a better version of themselves. I am encouraged by their mission of "...bringing about a kinder, gentler, more inclusive, more just and sustainable world for all." If you feel that contributing as a mentor is appropriate at this phase of your life, I highly recommend attending the CPM."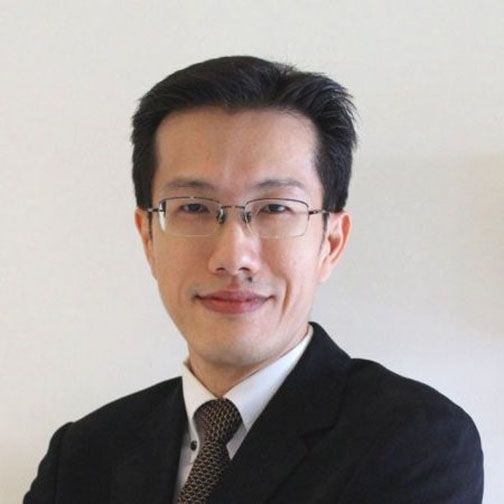 Chris Chew
Cognitive Leadership Coach| Facilitator| OD Architect 
"I registered for the CPM program in 2018 as I was interested to contribute as a mentor to help uplift others. The CPM program i attended is well structured with plenty of discussions, role-plays and experience sharing by facilitators as well as other mentor participants. I find the program practical and very useful in preparing mentors like myself before taking on future mentoring assignments. Continuous peer support
among mentors was also incorporated to support us throughout the whole mentoring journey."