A RELEASING and HEALING Workshop on "Grief and Loss" with Heiko & Selina
15/07/2021 19:30

to

15/07/2021 21:30

(

Asia/Singapore

)
---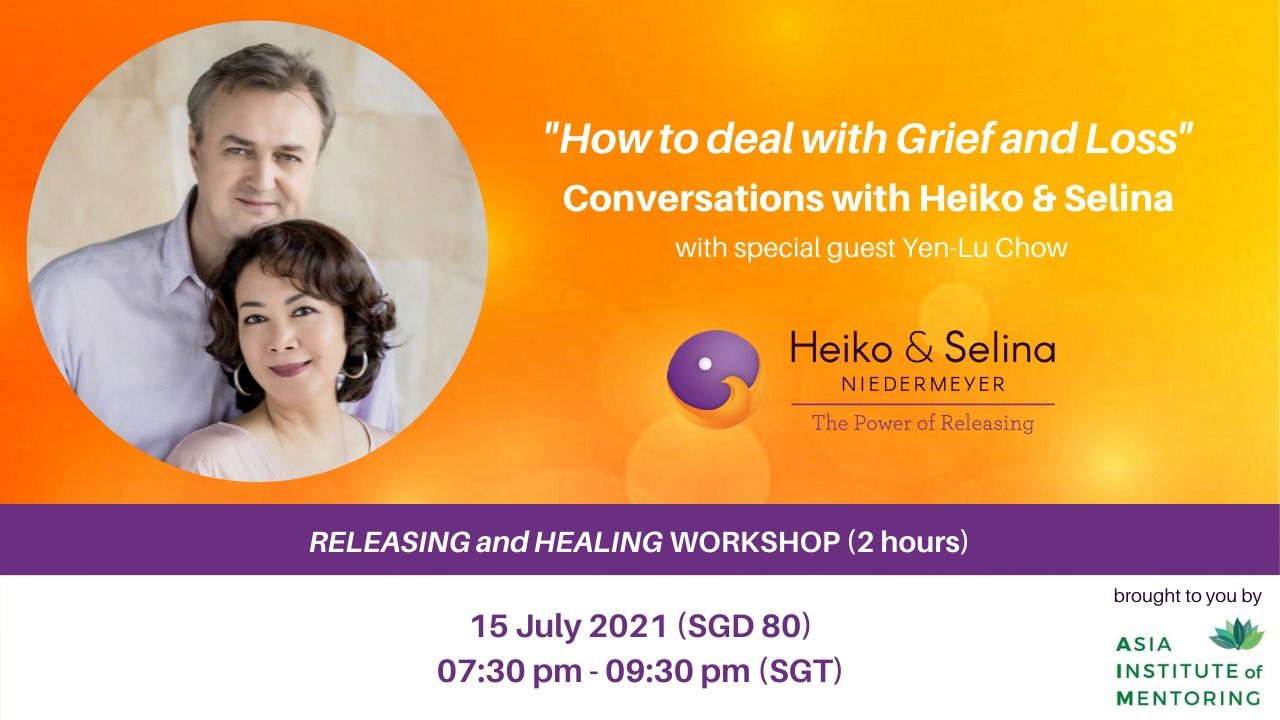 A RELEASING and HEALING Workshop on GRIEF and LOSS
with Heiko & Selina

Date: Thursday 15th July 2021 
Time: 7:30 - 9:30 pm (SGT)
Fees: SGD 80 for general public. AIM Premium members get 25% off and Basic members 10% discount (please make sure to log into your account before booking). Join us as a member here.


Log-in details and reminders will be emailed by Zoom (under AIM SG name) automatically following your registration. Please do look for them under your spam or junk mail folders in case you don't see them.
If you can't attend the session, do sign up to receive the replay link which will be emailed afterward to all those that have registered.

Synopsis
The feelings of grief and loss are emotions that many will experience multiple times in their life. Such feelings may arise from losing one's business or good opportunities, separation or divorce, losing a normal way of life or a sense of security, or loss of a loved one. Feelings of grief and loss can be so overwhelming that we can feel paralysed or unable to live life fully until we deal with them and heal ourselves effectively.
Suppressing and burying these feelings to the detriment of their emotional, mental and physical health, many people may experience depression or anxiety and even thoughts of suicide.
Heiko and Selina Niedermeyer will share their powerful approach on how grief can be confronted and emotional pain healed.


They will conclude this series of conversation on
grief
and
loss
with this special 2 hours
Releasing and Healing Workshop
(paid) on
July 15
for those who want to get the full benefits of
the profound and effective Lindwall Releasing process to address the underlying issues of this important subject.
In this 2-hour practical Releasing and Healing Workshop, you will experience first-hand for yourself how you can use the
Lindwall Releasing process
as a tool to release grief and emotional pain. What you can receive at this Releasing workshop:
1. Learn how to confront grief and to heal emotional pain
2. Release and heal stuck emotional pain
3. Experience lightness in the heart, like a heavy weight has been lifted. You will have access to the replay when you register for this workshop.
Free your heart from grief and loss by signing up now!
For any of you who are also experiencing grief from loss of a loved one, Releasing really works. I couldn't have imagined in the state I was before that my heart could heal from this; really heal I mean. Not just "stay strong" and push forward - by blocking out the pain (which is how I have dealt with loss and pain in the past). I thought I should have known how to deal with this loss, having been no stranger to death before. But this was a loss profoundly deeper than any other this lifetime for me. Cris

...Since then, I've been able to work, actually go to work every day, because after my wife passed away, I didn't work for 18 months... So definitely, before I did this Releasing, I had done things like meditation but I never ever ...never ever, never even thought or knew there was a way that you could deal with these very, very deep seated feelings, emotions, you know grief, stuff like that... - Hew

...Emotionally, spiritually, my life was dead. It really was, and somehow Heiko and Selina have shifted... shifted that grief, moved that grief. ...And I believe, they've saved my life. They just shifted things that I thought was impossible..." - Lionel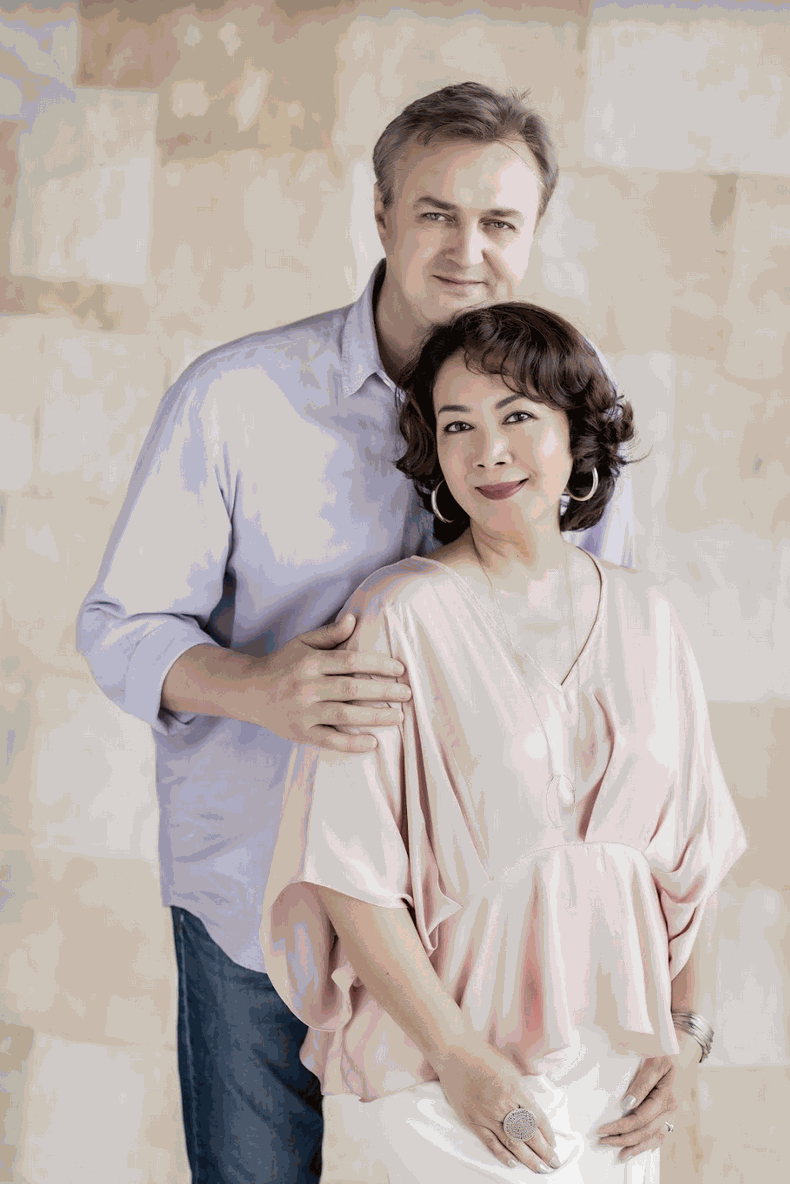 For the last two decades, Heiko and Selina Niedermeyer have been working together with multitudes of individuals from around the world, freeing their hearts and minds from pain and suffering and giving new purpose, clarity and personal power in their lives.
Heiko and Selina were taught and mentored by Dr E.E. Isa Lindwall and his wife, Ruth Yolanda Lindwall, who are the founders of the Lindwall Releasing process. Since then, their work has touched and changed the lives of people from all walks of life from 39 countries. Read more about their approach here and watch a testimonial video here.
Wholeheartedly dedicating their lives to healing and empowering others around them, Heiko and Selina regularly conduct private sessions, group workshops and powerful intensive retreats all over the world. They have also extended their services to providing seminars for business entrepreneurs in China and Malaysia and hosting webinars on various vital topics that pertain to the human condition and painful limitations.
About Asia Institute of Mentoring 

Asia Institute of Mentoring
(AIM)
is a non-profit organization with a mission to bring mentoring to the spotlight in Asia, raise the quality of mentors and the standard of mentoring, bringing mentoring to all facets of the society to impact millions of lives.
It is committed to creating an Asia-based people-powered mentoring movement to move people … to learn, to share, to believe, to give forward, to transform, to harness the deep human potential, and create social impact – bringing about a kinder, gentler, more inclusive, just and sustainable world for all.
Join us as a member
here.