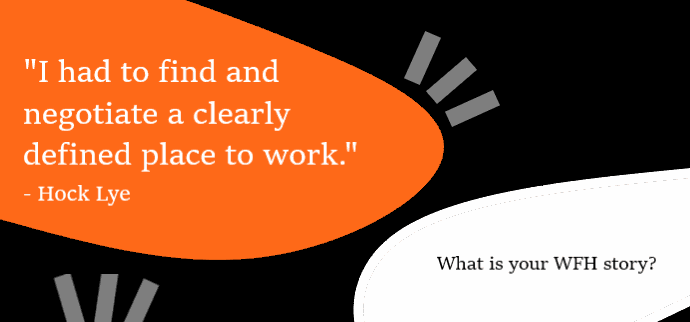 The last couple of weeks have seen the COVID-19 situation turning a corner every day.  Countries and organizations are reacting.  Each day new drastic measures are introduced.
No one is spared.  Be it self-quarantine, a business that is severely affected, contract cancelled, retrenched, placed on no-pay leave or at the very least, suddenly asked to work from home.  Yet, working from home is not without its challenges.
I had the first taste of working from home when I transited from my corporate job to entrepreneurship.  I soon realized that it is very different from the occasional bringing-work-home type of working from home.
Here are some tips to avoid the fuss and possibly still thrive through the workspace transition.
Sweat the small stuff
        1.           Define a place to work.
Like many in Singapore, I live in a small apartment and my wife and daughter have gotten quite used to not having me around all the time.  I had to find and negotiate a clearly defined place to work, be flexible and adjust without getting in each other's way.
        2.       Get connected.
The process of setting up the Wi-Fi, access and authorities can be complicated with today's need for security and data protection.  I had to make with many calls to different helpdesks before I was fully functional.  I was quietly proud of how I managed to remain calm and appreciative of the support I received from someone thousands of kilometers away.
        3.       Dress up and get into a routine.
Getting dressed gets me in the right frame of mind for work.  Know when you work best and protect those times religiously to put in focused work.  You have the flexibility, so it need not be during the normal working hours, if it still incorporates interaction with others.  This way, people around you know when you are working and how to reach you.
        4.       Set boundaries.
While it is flexible, you are still expected to perform and deliver at work.  Learn to say no to the people around you and let them know that you will get back to them after work.  Conversely, also learn to log-off from work to recharge and manage your energy level.
Benefit from working from home.
        1.       Make good use of the time saved.
Still do what you normally do when you were commuting, like listening to a podcast or read.  Maybe now you can enjoy it more over a cup of coffee at the couch.  I use the time saved to put in more exercise and self-care practices.
        2.       Become more efficient
I became more efficient with less interruptions and unproductive meetings.  This mean more family time and more time to plan and communicate.
        3.       Form deeper relationship
Make use of the flexibility to better integrate work and life.  I took better control of my time to connect and form deeper relationships at home and work.
Reality will set in.
The initial euphoria soon gave in to a sense of loneliness, guilt and even anxiety.  The extraverted side of me craved for the positive reinforcement from interactions and connections I used to have in the office.  I missed the deeper relationships I could build with others in-person.  At my worst time, I felt as if I was stranded out there in the middle of the sea, alone.  I started to feel guilty when things do not go according to plan.  I started to question my contribution and my self-discipline.  This also happen when the lines between work and home became blurred, and I was constantly in a flux with my priorities.
Get Support.
I was fortunate to have support around me to help me shift my mindset, help me accept and adapt to the situation I was in and having a strong belief that I need to draw on my resilience to succeed.
The support was not just work-related, it involved my whole person, my different roles, my mindset and my emotions.  I believe that getting support from people with experience (a coach or a mentor) or being part of a facilitated small group that gets together regularly, albeit virtually, to provide mutual support, to regain perspective and to share experiences will help.
As we do our part to be socially responsible and practice social distancing, we have faith that we will finally overcome this pandemic.  Some of the impacts will be deep and stay with us, like more acceptance of working from home and moving more of our interactions online.  It is an important skill to learn and benefit from.
For those of you who are suddenly put into a situation of working from home, what is your story?  How can you boost your confidence and succeed in it?
 Chan Hock Lye
19 Mar 2020