Scale-up for Small Business - Entrepreneurship Learning Circle Series
30/06/2021 19:30

to

30/06/2021 21:00

(

Asia/Singapore

)
---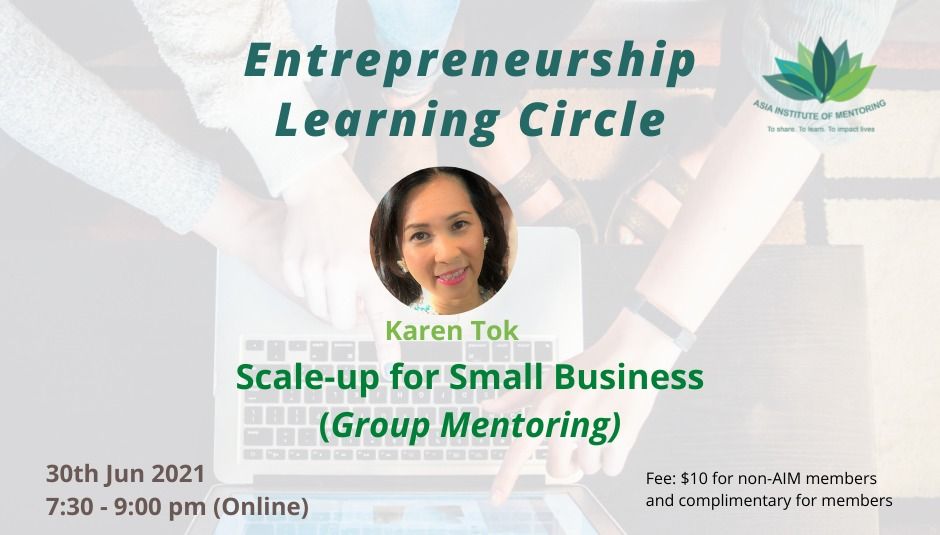 Scale-up for Small Business
Entrepreneurship Learning Circle Series
Special Group Mentoring Session  
Date: 30 June 2021
Time: 19:30 - 21:00 (SGT)

This will be a Group Mentoring Session focused on leadership, culture and building a high performing teams.
Note: For an effective discussion, we will limit the session to max 10 pax so sign up fast!
Fees: SGD 10 for non-members and complimentary for AIM Members (please make sure you are logged into your account before registering to access full membership benefits. There will be an automatic deduction when you register based on your name and email). Join us as a member here for full benefits.
As a non-profit organization, your fee will contribute to our administrative and operating costs.


Synopsis
It is an exciting time, when a startup is ready to scale up, but a few wrong moves can collapse or set the company back by a few years. 75% of venture-backed startups fail, according to a Harvard Business School. Scaling a business is to increase revenue at a much more rapid rate than cost; thus, it can be more complex than a startup.  
One of the critical areas in scaling up a business is people and culture.  As the company scales, it is more difficult to sustain the culture and enable growth. It is also essential to scale up the founder to become a CEO. 
In this small group online mentoring session, Karen Tok will share her personal business scaleup experience and her valuable insights from working with various rapidly expanding organizations in Asia over 16 years.

The format:
It will be an interactive session with lots of problem solving, idea generation and discussions with:
15mins presentation 

60 mins of Q&A and sharing 

Maximum 10 participants


The session will not be recorded for confidentiality reasons so you can share freely
To achieve an efficient small group mentoring session, we have narrowed down the mentoring session to only cover: 
Company Culture Scaleup 

Alignment of company's core value with brand value

How to create and manage a high performing team

Retaining and Attracting Talent 

Effective Organization Structure

Performance Measurement 


We will exclude Funding, Technology, Business processes, Sales and Marketing, which can be covered in future Learning Circle sessions. 
Who should attend:
Leaders and founders of companies with current employee size of between 10 to 30 headcount and are considering to scale up within the next six months. 


What to prepare : 
Be ready to share your challenges and questions 

Bring three key burning challenges related to the above topics that you wish to solve  

We will email some short pre-work materials not later than three days before the event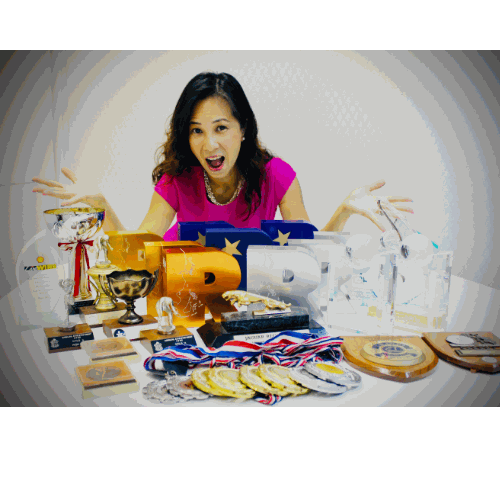 Karen Tok has over 20 years of B2B experience across various industries and 17 years in leadership positions. She founded an award-winning biotechnology recruitment firm, and surviving two financial recessions, grew it from seed capital to a multi-million dollar trade sales 16 years later. A highly dynamic individual and forward-thinking business leader,


Karen was nominated for the Great Woman of Our Times Award 2018 by Woman's Weekly Magazine and a recipient of the merit award for the Shell LiveWire Young Business Start-up Award 2005.
Her entrepreneurial success story was featured in many media outlets including The Straits Times, Her World, Forward – Shell LiveWire's book on entrepreneurship, 938Live! Money FM 89.3, to name a few. Karen is a high performing CEO who leads with purpose and a high level of self-awareness, she believes in creating the ultimate customer experience, putting People First, Always as a guiding force and scaling only from a solid foundation. She is passionate about helping organisations achieve peak performance, and individuals embrace their perceived limitations to turn adversity into possibility.
About Learning Circle

Held on the first Wednesday of the month, Learning Circle Series are peer-learning sessions are conducted by the
Asia Institute of Mentoring
(AIM)
. They are small group facilitated meetings where we encourage sharing and draw upon the wisdom of our mentoring community. New mentors, mentees,
(aspiring-mentors) and
non-mentors are all welcome to join to discuss about trending Mentoring topics and to network with our community members.
Asia Institute of Mentoring
(AIM)
is a non-profit organization with a mission to bring mentoring to the spotlight in Asia, raise the quality of mentors and the standard of mentoring, bringing mentoring to all facets of the society to impact millions of lives.
It is committed to creating an Asia-based people-powered mentoring movement to move people … to learn, to share, to believe, to give forward, to transform, to harness the deep human potential, and create social impact – bringing about a kinder, gentler, more inclusive, just and sustainable world for all. Join us as a member here.