Real Play 1 - Case Study | Learning Circle
09/12/2021 17:00

to

09/12/2021 18:30

(

Asia/Singapore

)
---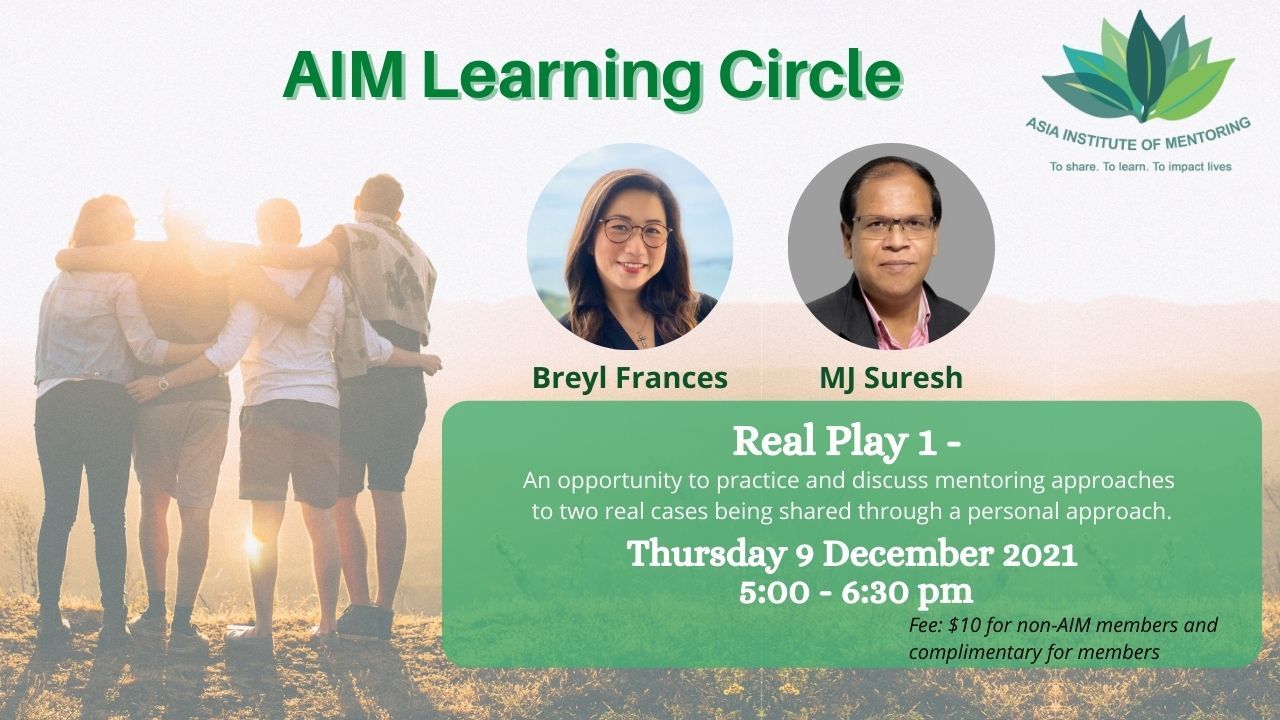 Real Play 1 - Case Study
Learning Circle Series
    Date: Thursday 9th December 2021
Time: 17:00 - 18:30 (SGT)
Note: For an effective discussion, we need a minimum of 10 pax and will limit it to 20. 
Fees: SGD 10 for non-members and complimentary for AIM Members (please make sure you are logged into your account before registering to access full membership benefits. There will be an automatic deduction when you register based on your name and email). Join us as a member here for full benefits.
As a non-profit organisation, your fee will contribute to our administrative and operating costs.
Log-in details and reminders will be emailed by Zoom (under AIM SG name) automatically following your registration. Please do look for them under your spam or junk email folder in case you don't see them and add our email hello@asiainstituteofmentoring.com to your safe list/ whitelist to receive the login, news & updates. 

Real Play 1 - An opportunity to practice and discuss mentoring approaches to two real cases being shared through a personal approach.

You will need to work together with your peers on how to approach the case and offer input.
Great opportunity for peer learning and gaining insight from the wisdom of the group.
It will be a very interactive session.
It will also be a good platform to bring your own mentoring challenges to this meeting.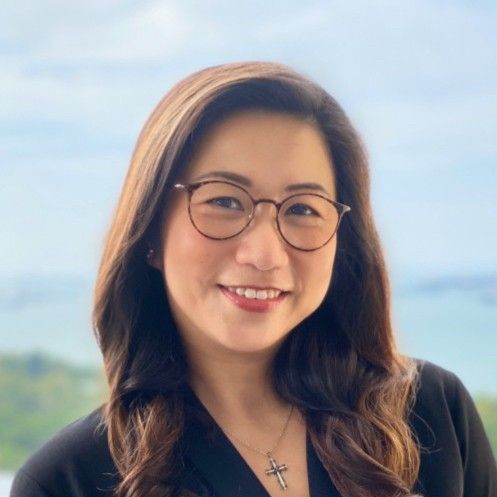 Breyl Frances is a
certified professional coach, wanting to be a part of your journey to develop a better, more impactful, and purposeful you. With 30 years of professional corporate Business Development experience in IT, Telco and Government spanning across Singapore and Asia Pacific region, she have developed an effective networking business strategy that grows one's personal brand and leadership skills.
Breyl's sincerity, genuine interest in people and creative energy enables her in mentoring individuals to discover and maximise their fullest potential to create meaningful and happy lives. Mentoring to her means she need to stretch if continually, to ensure that she bring the value add that the Mentees are placing in her.
As an accredited mediator, Breyl have a personal interest in coaching parents to build self-resilience and a holistic environment for growth and development amidst this COVID pandemic.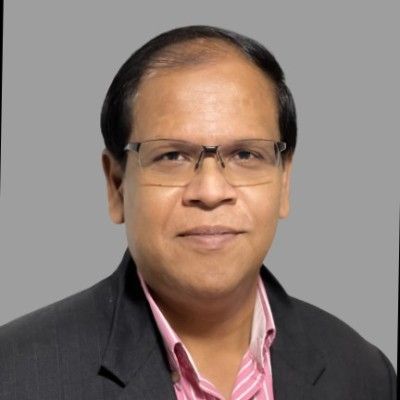 Suresh MJ
is a leadership professional, mentor and ICF certified coach with 30 years of corporate experience. He has coached individuals at all levels uplifting their professional aspirations and personal dreams. His engaged motivational encouragement brings out the inner potentials of individuals enabling them to achieve their goals. His "present to listen" approach builds a personal space for the clients to feel the conversational comfort.
Suresh employs various approaches and methodologies in supporting, influencing and guiding his clients. Rapid Planning Method, 7-level purposing and QUICK model are just a few to mention. Suresh is skilled in Personal Growth, Leadership, Transformational, and Career Coaching with the vision to empower individuals, organizations and teams to succeed in their goals.
Held on the first Wednesday of the month, Learning Circle Series are peer-learning sessions are conducted by the
Asia Institute of Mentoring
(AIM)
. They are small group facilitated meetings where we encourage sharing and draw upon the wisdom of our mentoring community. New mentors, mentees,
(aspiring-mentors) and
non-mentors are all welcome to join to discuss about trending Mentoring topics and to network with our community members.
Asia Institute of Mentoring
(AIM)
is a non-profit organization with a mission to bring mentoring to the spotlight in Asia, raise the quality of mentors and the standard of mentoring, bringing mentoring to all facets of the society to impact millions of lives.
It is committed to creating an Asia-based people-powered mentoring movement to move people … to learn, to share, to believe, to give forward, to transform, to harness the deep human potential, and create social impact – bringing about a kinder, gentler, more inclusive, just and sustainable world for all. Join us as a member here.