Who Killed Creativity?... and How to Get it Back? - FIRESIDE CHAT
08/08/2020 09:30

to

08/08/2020 10:30

(

Asia/Singapore

)
---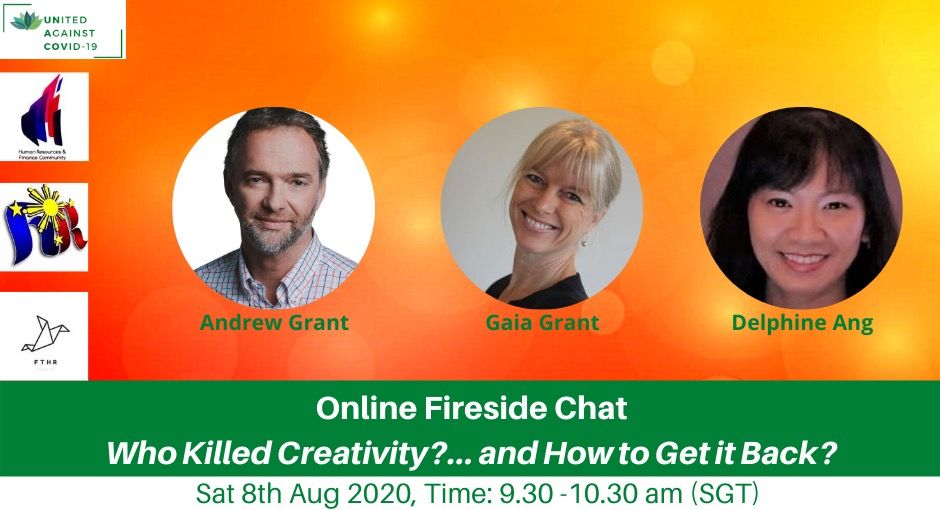 Date: Saturday 8th August 2020

Time: 09:30 - 10:30 am (GMT+8)


Webinar ID is: 913 9370 3666
Password: 074592

Synopsis
We need to be creative to be innovative. But the relentless push to innovate faster is producing a toxic culture that may undermine the whole creative process. In our rush for end results fast, we could ironically be killing the very thing that will lead us to innovation: creativity. Creativity and innovation are not interchangeable words, and it's important for effective businesses to understand why. In this session, we explore why we need both and the paradoxes behind this that can impact our work.
Innovation is key for organizational transformation - but to prepare for innovation there needs to be both a culture of creativity (at the organization level) and creative thinking mindset and skill development (at the personal level). There are no shortcuts, and this is why many companies that only focus on embracing design thinking, agile, digital, and other innovation activities & tools (such as innovation labs, hackathons, sprints, scrum, and design thinking models) often fail.

In this webinar, we will discuss about the potential psychological and neurological blocks to critical and creative thinking, and the practical process leaders can engage in with practical strategies to achieve more innovative results in themselves, their team, and their organization.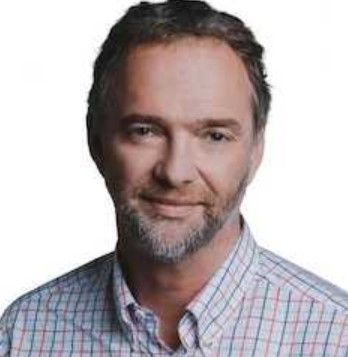 Andrew Grant
is a founder and director of
Tirian International Consultancy
and author of The Innovation Race: How to change a culture to change the game along with international bestseller 'Who Killed Creativity?... And How Can We Get it Back? 
He is a keynote speaker, an executive-level global culture consultant and facilitator, and has been engaged by market innovation leaders to help create a culture of innovation such as Nestle (sustainable solutions for emerging markets in Switzerland); Four Seasons Hotels & Resorts (preparing the exec team & GMs for the future of the hospitality industry, Canada); Disney (creating compelling ideas for marketing, HK); Mercedes Benz (innovative brand positioning, China); Estee Lauder (re-imagining regional retail models); Salesforce (looking at the future of marketing and the customer journey); Duke University & UAE Prime Minister's office (to help Dubai and the region develop future leaders in innovation); Boeing (leading and recovering from crisis - during COVID).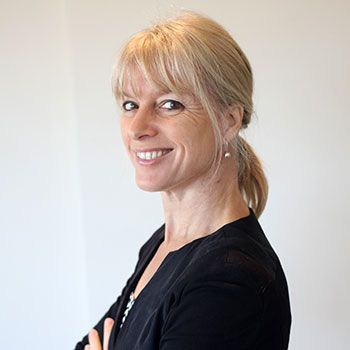 Dr. Gaia Grant is the author and co-author of a number of books including The Innovation Race: How to change a culture to change the game and international bestseller Who Killed Creativity?... And How Can We Get it Back? along with A Patch of Paradise and The Rhythm of Life and over 30 other educational resources.
Gaia is the creator of 'The Innovator's Profile' (iCLi) and 'Polar Positioning' (PoP) tools designed for navigating innovation leadership and culture. 
An associate researcher and lecturer on sustainable innovation culture in international business and with the Discipline of Strategy, Innovation and Entrepreneurship at the University of Sydney Business School, Gaia also has an MSc in Creative Leadership (State University of New York), along with a Grad Dip Change Leadership, BD (Hons), and BA Dip Ed. Gaia researches how to create a culture that supports sustainable innovation and draws on data she's collected from multiple survey responses and interviews with global leaders.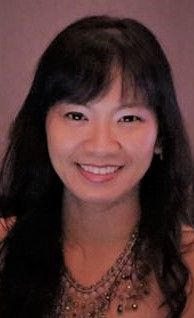 Delphine Ang has over 20 years' experience developing and managing events in Asia and the Middle East. She is a bridge-builder, people connector, community developer, and platform creator. 

She focuses on creating and organizing 'people-focused and heart-oriented' programs that serve to inspire and transform people's lives. 

Her passion 

is to bring families and communities together - teens, youths, and parents through seminars that serve to equip them with important life skills that empower them to thrive against adversity, to build and enjoy strong relationships.  

Delphine is a certified youth leadership and youth mentor coach. She has given talks, workshops, and retreats to schools, teens and parents, particularly on Resilience and Positive Parenting. Her podcast – Mumzilience: Resilient Mums – Ordinary Women with Extraordinary Stories of Love, Faith, and Courage will be launched this year. She is currently working on the 7-Day Global Prayer Challenge for Mothers - on 19 - 25 Jul 2020.
United Against COVID-19 (UNACOV) is an AIM initiative, bringing together a coalition of partners in a united effort to help those adversely impacted by this pandemic in Singapore, in particular: entrepreneurs, small business owners, the unemployed and in-transition PMETs, as well as public healthcare workers. 

The events are a series of programs to help these individuals overcome the many challenges, and emerge from the crisis stronger and more resilient.
Our three program pillars are: Business Crisis Management, Career Resilience and Personal Well-Being.
We will also offer one-on-one mentoring and coaching support. The third Mentorship batch is kicking off on August 6 so do register early for the next one. 
- If you are interested in 
becoming a 
volunteer mentor
, please register 
here
.
- If you are interested in 
being mentored
, please register 
here
.
Find out more 
here
. 
About Asia Institute of Mentoring 

Asia Institute of Mentoring
(
AIM
) is a non-profit organization with a mission to bring mentoring to the fore in Asia, raise the quality of mentors and up the standard of mentoring, bringing mentoring to all facets of the society to impact millions of lives.
It is committed to creating an Asia-based people-powered mentoring movement to move people … to learn, to share, to believe, to give forward, to transform, to harness the deep human potential, and create social impact – bringing about a kinder, gentler, more inclusive, just and sustainable world for all.