SELF-DISCOVERY SERIES | Achieving Self-Awareness & Self-Fulfillment Through the HAPPY™ Coaching System
23/12/2020 20:00

to

23/12/2020 21:15

(

Asia/Singapore

)
---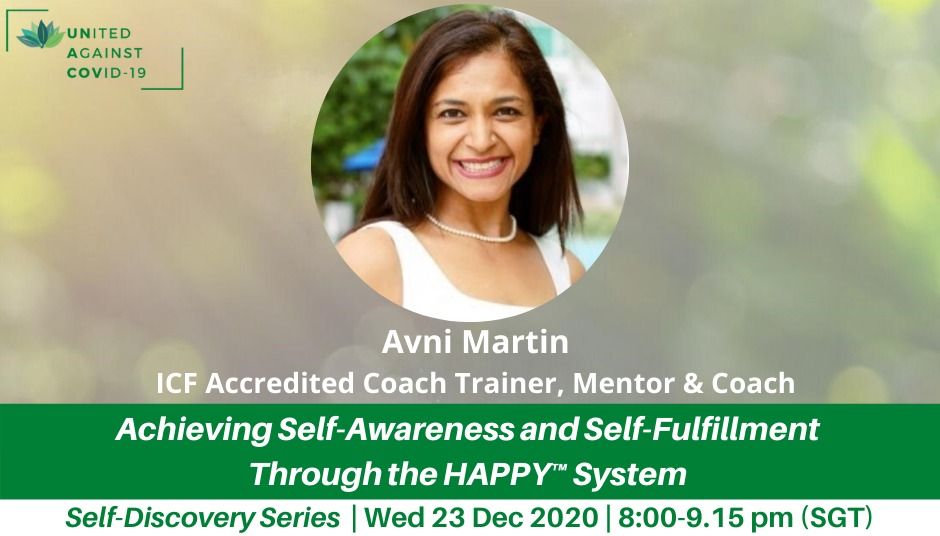 Achieving Self-Awareness & Self-Fulfillment Through
the HAPPY™ Coaching System
A

 

SELF-DISCOVERY SERIES 

 

Webinar
Date: Wednesday 23rd December 2020 

Time: 8:00 - 9:15 pm (SGT)


Log-in details 




https://zoom.us/webinar/register/WN_hxkH_NvQQqi61_VaDd8G4Q





Synopsis

Most of us want to be happy.
Have you ever wondered what is really in the way of being happy? 




Join us to find out more about:


Why are so many people unfulfilled and unhappy?


How can we get more fulfilment and happiness?


What do we really need to do to make this happen?


 

We will share with you the key reason why most people are unhappy, and what is the

construct of finding our path to happiness

, and exactly how we can apply

The HAPPY™ Coaching System

for

Self-Discovery

to

learn more about ourselves

in order to be happier. As we look beyond the volatile 2020 into the new year, do we want to be stuck in fear and anxiety or look forward with hope and confidence? How can we

take actions

to

become more self-aware

,

reframe our mindset

in shaping our purpose and build habits that will help us achieve them?




Don't miss the introduction to the key concepts of

The HAPPY™ Coaching System

to learn how we can use it for

self-discovery

, which will be followed up with further webinars in 2021 to apply it to careers, teams, and organizations.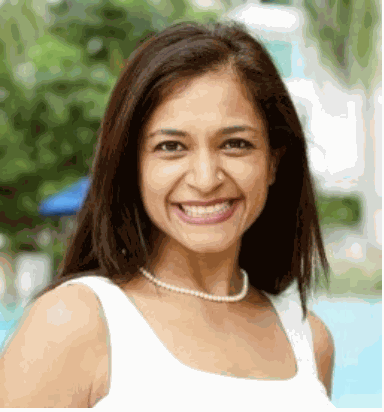 Avni Martin is the Founder of a coach training school that delivers ICF ACTP, Accredited Coach Training Programs, to develop world-class coaches and has developed a powerful coaching model with years of research called The HAPPY™ Coaching System for Executives, Teams, and Organisations.
She works with individuals, teams, and organizations to transform what is possible (i.e. their vision), into reality (practical change in mindset, behavior, and culture). Avni is also the Director of Research and a Board Member for ICF Singapore since 2016 where she is leading pioneering research for Organisational Development across South East Asia and developing coaching demonstration sessions. Avni is highly respected in the industry as a coach, trainer, and facilitator of change.
United Against COVID-19 (UNACOV)is an AIM initiative, bringing together a coalition of partners in a united effort to help those adversely impacted by this pandemic in Singapore, in particular: entrepreneurs, small business owners, the unemployed and in-transition PMETs, as well as public healthcare workers.

The events are a series of programs to help these individuals overcome the many challenges, and emerge from the crisis stronger and more resilient. Our three program pillars are: Crisis Management, Career Resilience, and Personal Well-Being.
About Asia Institute of Mentoring 

Asia Institute of Mentoring (AIM)
is a non-profit organization with a mission to bring mentoring to the fore in Asia, raise the quality of mentors, and up the standard of mentoring, bringing mentoring to all facets of the society to impact millions of lives. It is committed to creating an Asia-based people-powered mentoring movement to move people … to learn, to share, to believe, to give forward, to transform, to harness the deep human potential, and create social impact – bringing about a kinder, gentler, more inclusive, just and sustainable world for all.
Join us as a member here.