Redesign Your Life Through Clarity - UNACOV Career Webinar
23/09/2020 20:00

to

23/09/2020 21:15

(

Asia/Singapore

)
---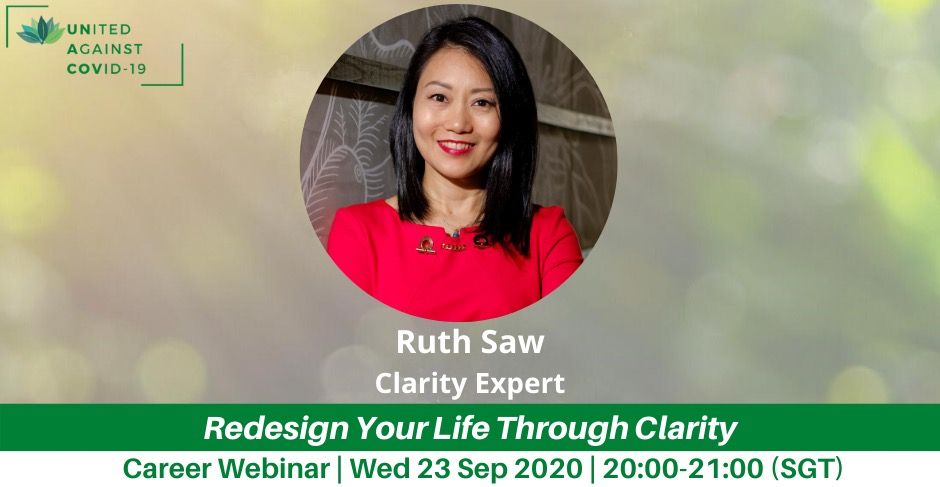 Date: Wednesday 23rd September 2020

Time: 20:00 - 21:00 (GMT+8)
Please login here for this evening's event

https://zoom.us/j/93932706421?pwd=d2R0VVpPSWdsVkNkRG8vcnIwNXF2Zz09
Alternatively, the Webinar ID is: 939 3270 6421

Type in the password (if prompted for one): 074592




Synopsis
"Like a diamond, the more clarity we have, the more value we bring." - Ruth Saw

The current world is changing so rapidly that it causes one to compare, compete or even get confused. How do we navigate life effectively through change and yet step into a fulfilling, satisfying life?
Clarity is key. It is the future of 'personal authority'. Finding clarity has become a necessity, not a good-to-have. Just like shooting an arrow, we pull back to find clarity so that we can propel forward with speed. More than ever, we need to look within to find that clarity.

COVID-19 has given us this opportunity to settle and find the clarity we need, to create the future we want. Clarity will free us from comparing ourselves with others. It will help us to move past our doubts to step into our destiny.
In this webinar, you'll find simple exercises to understand yourself and practical insights on finding clarity that leads to action.

Discover how to:

Know yourself, your possible strengths and blind-spots


Influence others just the way you are


Uncover your why


Create a clear path of action and maximise your time


Feel liberated and find confidence to be who you are meant to be!

Ruth Saw (MBA) is an international bestselling author, speaker and a clarity expert. As a Gallup certified strength coach, she firmly believes and has witnessed that Clarity is Power. Having lived and worked in different cultures, including the United States of America and Asia Pacific in her corporate career, she realizes that regardless of culture, people will flourish when they know who they are, when they find clarity.

She herself found clarity and freedom in pursuing her passion (despite being an introvert!) and she's now dedicated to helping others find their clarity.

www.ruthsaw.com
www.theclarityexpert.co
United Against COVID-19 (UNACOV) is an AIM initiative, bringing together a coalition of partners in a united effort to help those adversely impacted by this pandemic in Singapore, in particular: entrepreneurs, small business owners, the unemployed and in-transition PMETs, as well as public healthcare workers. 

The events are a series of programs to help these individuals overcome the many challenges, and emerge from the crisis stronger and more resilient.
Our three program pillars are: Business Crisis Management, Career Resilience and Personal Well-Being.
We will also offer one-on-one mentoring and coaching support. 
The third Mentorship batch has kicked off on August 6 so do register early for the next one. 
- If you are interested in 
becoming a 
volunteer mentor
, please register 
here
.
- If you are interested in 
being mentored
, please register 
here
.
Find out more 
here
. 
About Asia Institute of Mentoring 

Asia Institute of Mentoring
(
AIM
) is a non-profit organization with a mission to bring mentoring to the fore in Asia, raise the quality of mentors and up the standard of mentoring, bringing mentoring to all facets of the society to impact millions of lives.
It is committed to creating an Asia-based people-powered mentoring movement to move people … to learn, to share, to believe, to give forward, to transform, to harness the deep human potential, and create social impact – bringing about a kinder, gentler, more inclusive, just and sustainable world for all.