Leading in the era of Remote Working | Leadership Series
24/08/2021 20:00

to

24/08/2021 21:00

(

Asia/Singapore

)
---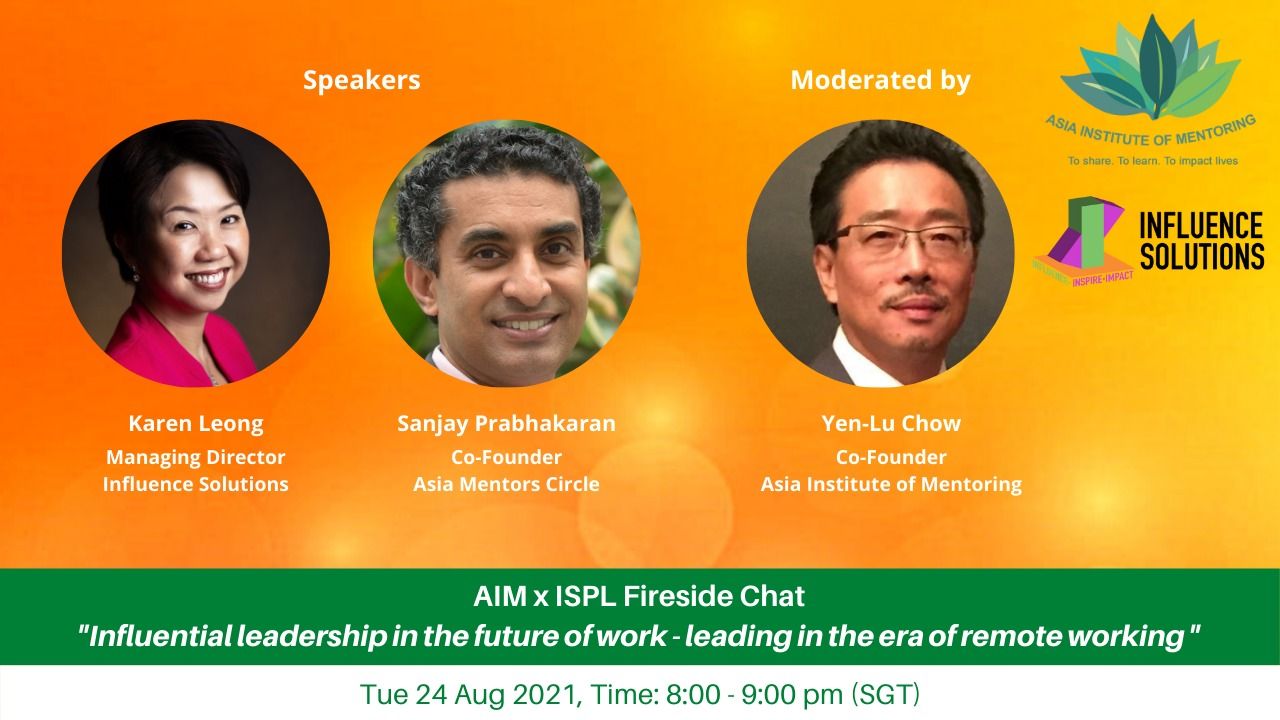 Leadership Series
Influential Leadership in the Future of Work -
Leading in the Era of Remote Working 

Date: Tuesday, 24th August 2021 
Time: 08:00 - 09:00 pm SGT (GMT +08)
Log-in details and reminders will be emailed by Zoom (under AIM SG name) automatically following your registration. Please do look for them under your spam or junk mail folders in case you don't see them.
If you can't attend the session, do sign up to receive the replay link which will be emailed afterward to all those that have registered.

Synopsis
There has been a historic shift in the way of work with the onset of the global pandemic. Remote working or a blend of work from home and office looks set to be a norm into the future. By 2025, an estimated 70% of the workforce will be working remotely at least five days a month, as published by Forbes magazine. DDI highlighted that 51% of CEOs identified that "working well remotely" as the top hurdle for their teams, as companies recognise this as a challenge leaders will continue to face.
Through the pandemic, leaders faced new challenges.
In particular, leaders struggled having to manage for performance without the same visibility in the office. Yet there were increased pressures to deliver results and innovate. People were also battling with the need for virtual collaboration, and having less segregation between work and the home, leading to lower employee engagement.
What can we do to stay ahead of the skills we need for the future? This thought-provoking, no holds-barred session reveals deep truths that equips you with the agility to thrive in this competitive business environment with calm and clarity.
Learn the pivotal skillsets and mindsets leaders can adopt to meet current and future business challenges.
Take away valuable insights how you can lead yourself and others with clarity and confidence into the future.
Karen is the Managing Director of Influence Solutions, a leading learning and development organization headquartered in Singapore, which was awarded 'The most influential leader in Training and Development in APAC' in 2019. Karen led Influence Solutions into successfully pivoting to supporting it's clients globally with virtual learning and development solutions since the start of the global pandemic.
Since 2018, it had embarked on global leadership events with the launch of Rise to the Ranks summit, an online platform featuring 40 international thought leaders and empowering thousands of teams in over 70 countries. An innovative company, Influence Solutions is credited with helping to elevate team performance and morale with Licence to Thrill, it's virtual team bonding platform utilized by the world's most iconic companies like Grab, Unilever, VMWare and Microsoft.
Featured as one of the ten most influential professional speakers in Singapore, Karen Leong is a global transformation thought leader, heralded as the Decisive Woman Leader and Visionary Woman Leader by Business APAC magazine. She is also a TEDx speaker/ Certified Speaking Professional and coach, as well as an Amazon best-selling author with her seminal book – Win People Over and Influencing styles profiling tool.  

Sanjay is a business leader with over 30 years of healthcare industry experience in senior leadership roles having worked closely with the CEOs
of Fortune 500 companies. Sanjay is based in Singapore and is a Harvard Business School alumnus.
In his last assignment, he was the President – Asia-Pacific for Hologic Inc a leader in women's health.
Sanjay has served on the board of APACMED, the Asia-Pacific MedTech industry body for several years and has been a founding member of the board of Advamed in China.
At the end of 30 years in the healthcare industry he has been able to create 6,041 new jobs and believes through mentoring the next generation of healthcare leaders he will reach this goal even faster.
With this goal, he has co-founded the Asia Mentors Circle to make a meaningful difference to healthcare talent in Asia.

Yen-Lu Chow
is Executive Chairman, WholeTree Foundation; Co-Founder and
Executive Chairman
,
Asia Institute of Mentoring;
Founding Partner,
Fatfish MediaLab
; Executive Mentor,
YSI SEA
; and founder of the
Deep Human Movement
. Yen-Lu is a former Apple Distinguished Technologist, serial entrepreneur, angel investor, mentor and advisor, social innovator, and humanist.
Yen-Lu's career spans nearly 40 years in the tech, media, venture capital, and more recently social entrepreneurship and philanthropy. A former Apple Distinguished Technologist, he is a successful entrepreneur with multiple tech start-ups and an active angel investor, spending many years mentoring and advising entrepreneurs, young businesses and serving on government panels on innovation. He served as a director of Business Angel Network SEA, executive mentor and adjunct professor to NUS Enterprise, mentor to INSEAD, numerous panels on entrepreneurship and innovation internationally,
In a fast-paced world where the only constant is change, he believes there is an urgent need for each of us to draw on our strengths and creative potential as human beings, to connect with our higher self and our deeper purpose to contribute towards humanity in a positive and impactful way.
With the launch of his family foundation and other social impact initiatives, Yen-Lu devotes his time
serving both society and the nation
in his various capacities. He is on a
life mission
to help bring about a
kinder
,
gentler
,
more inclusive
,
more jus
t, and
sustainable world
.
About Asia Institute of Mentoring 

Asia Institute of Mentoring

(AIM)

is a non-profit organization with a mission to bring mentoring to the spotlight in Asia, raise the quality of mentors and the standard of mentoring, bringing mentoring to all facets of the society to impact millions of lives.

It is committed to creating an Asia-based people-powered mentoring movement to move people … to learn, to share, to believe, to give forward, to transform, to harness the deep human potential, and create social impact – bringing about a kinder, gentler, more inclusive, just and sustainable world for all.
Join us as a member here.