Finding Peace in a Frantic House: UNACOV Well-Being Fireside Chat (complimentary)
28/11/2020 10:30

to

28/11/2020 11:30

(

Asia/Singapore

)
---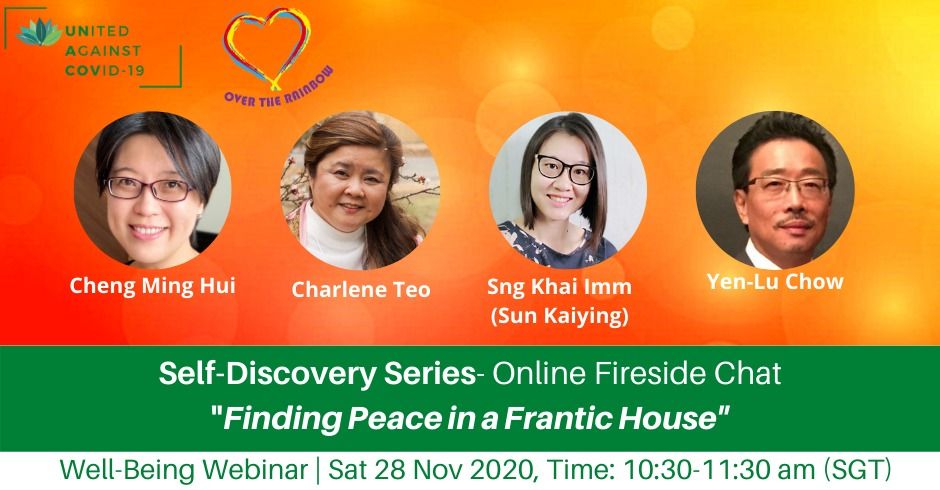 Date: Saturday 28th November 2020 
Time: 10:30 am - 11:30 am (SGT)

Synopsis
As 2020 comes close to a wrap, we look back at how the COVID-19 situation has created a disruption in lives everywhere that we have never experienced before. "New norms" came one after another. When work-from-home measures first started, many wanted to go back to the workplace. Months later, 8 out of 10 then wished to stay at home (Straits Times, 11 Oct 2020) even as workplaces are reopening. Soon, school holidays will descend upon us again and this not-so-new norm of having almost every family member in the house all-day long will be here to stay.

While our family members may be our closest and dearest, the last few months have been trying times for most families. Many have felt either:

"I do not have space for myself"
or "Everyone is getting in my way"
or "Responsibilities seem endless."


Personality differences, children's misdemeanour, parental restrictions - everything got magnified. Our home, which we should be our Home Sweet Home, became at times a


Deriving insights from "Mindfulness – a practical guide to Finding Peace in a Frantic World", the life changing bestseller by Prof Mark Williams and Danny Penman, mindfulness instructors Ming Hui, Charlene and Khai Imm invite you to join them at this Fireside Chat - Finding Peace in a Frantic House, beginning from our own house.
In this session, participants will:
Gain an understanding and awareness of the workings of the mind that contribute to the franticity in their lives.

Get to learn how mindfulness helps them bring awareness and to relate differently to difficult thoughts and feelings.

Lean simple mindful breathing exercise that they can walk away with a useful tool for daily use.
Cheng Ming Hui spent 20 years in the corporate world, having extensive business management experience in regional supply chain, business planning, market development, HR and the oil and gas industry. She has led multicultural teams across the Asia Pacific region, leading strategic initiatives in multi-billion dollar business units. When stress levels escalated to an all-time high trying to balance a demanding job with a young family, she decided to go right back to basics by unlearning and relearning her mindfulness practice through the Oxford Mindfulness Centre's Mindfulness-Based Cognitive Therapy course. This sparked a transformational journey in self-discovery. Ming Hui is now a leadership coach, corporate trainer, and mindfulness instructor, working with clients in various industries across the region. She believes in work-life harmonization, and is on a personal mission to bring mindfulness into the workplace.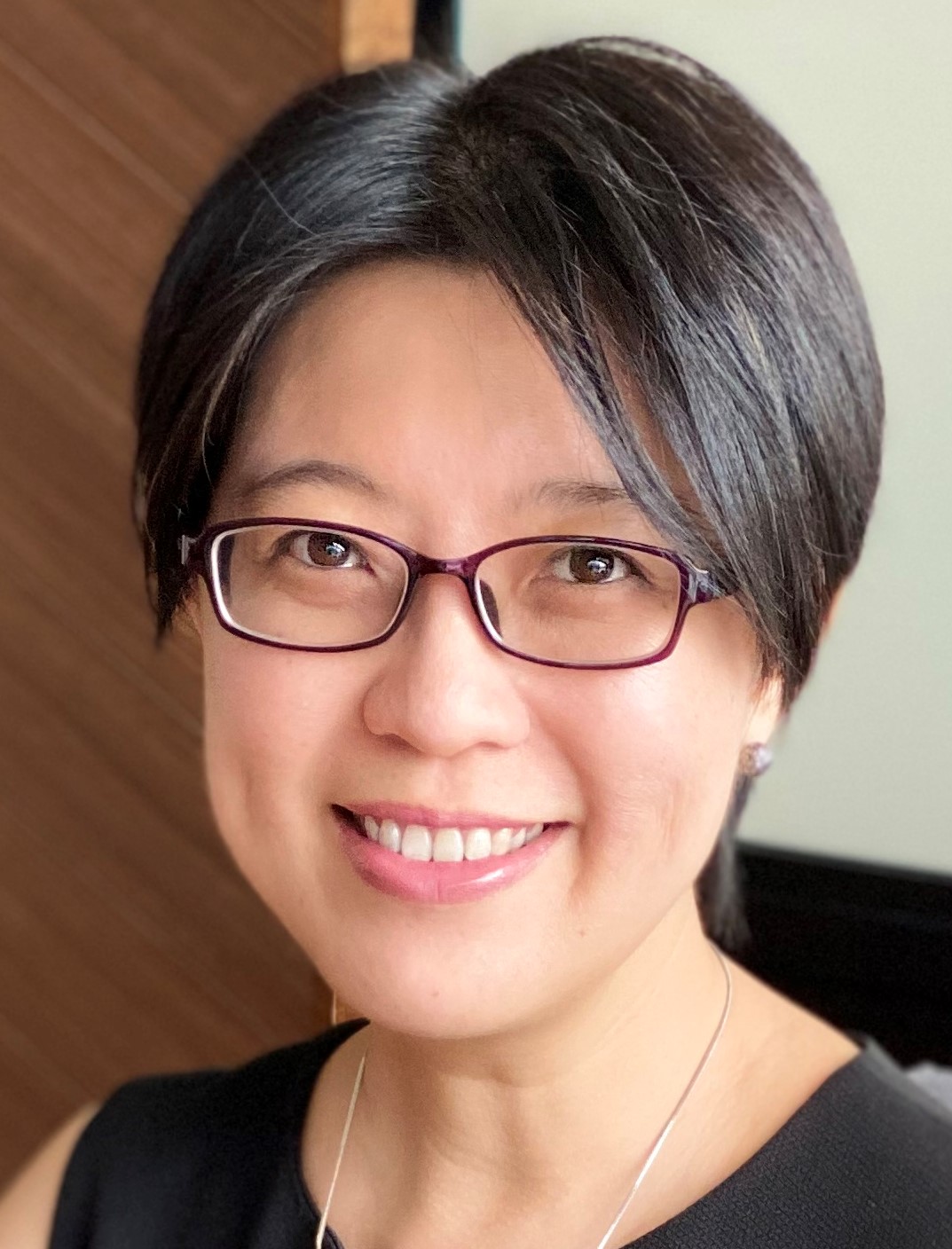 Charlene Teo spent more than 30 years in industries that dealt primarily with people, from hospitality, teaching, community social services, counseling, psychotherapy to training, and lecturing. She was introduced to Mindfulness about 8 years ago and since then it has changed her life and how she plans to live it. Since then, she has not only incorporated it into her personal life, she has also imparted it to her clients who are looking for a new perspective on their life situation. Charlene is presently a Mindfulness and Impact Systems Coach, a psychotherapist, an adult educator of leadership, service excellence, transactional analysis, and counseling-related programs as well as a lecturer for higher education. Charlene believes that every one of us has a choice, we just need to realize and be aware of where we are in this choice. 

Sng Khai Imm (Sun Kaiying) is a clinical psychologist who currently has her own private clinic that provides psychological services to children, teenagers and adults. She first started her career in the government service, and her previous work included working as a prison psychologist, as well as policy work related to low-wage workers. Over the years of working, as well as in her personal life, Kaiying has found mindfulness to be very helpful for coping with daily stressors and psychological problems. She thus continues to develop herself in practising and teaching mindfulness, and currently conducts mindfulness groups, as well as incorporates mindfulness teaching in her therapy sessions.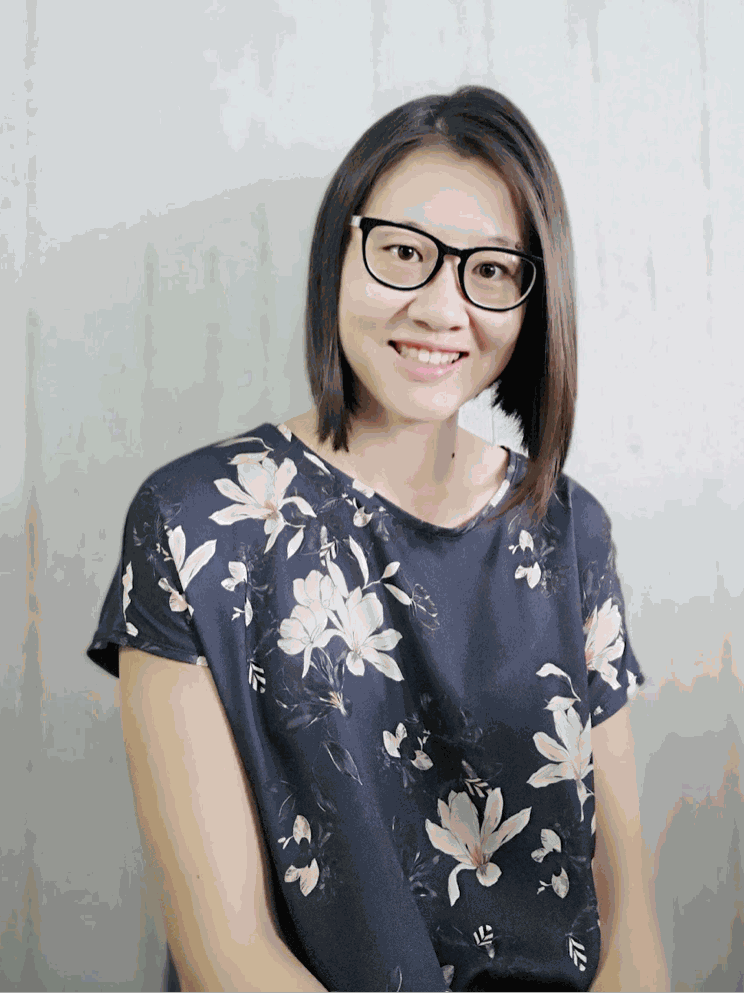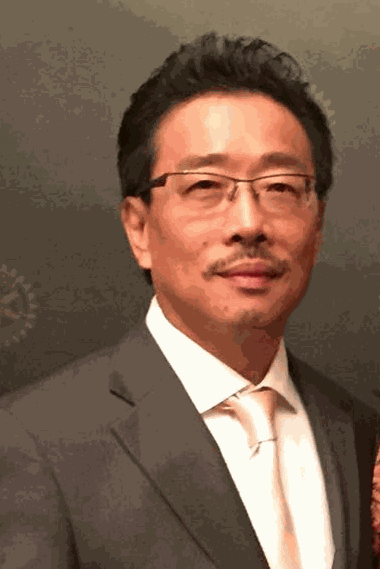 Yen-Lu Chow is Executive Chairman, WholeTree Foundation; Co-Founder and Director, Asia Institute of Mentoring; Chairman, Singapore Creations; Founding Partner, Fatfish MediaLab; Executive Mentor, YSI SEA; and founder of the Deep Human Movement. Yen-Lu is a former Apple Distinguished Technologist, serial entrepreneur, angel investor, mentor and advisor, social innovator, and humanist. With the launch of his family foundation and other social impact initiatives, Yen-Lu devotes his time serving both society and the nation in his various capacities. He is on a life mission to help bring about a kinder, gentler, more inclusive, more just, and sustainable world. 


Yen-Lu will be your moderator for this session.
United Against COVID-19 (UNACOV) is an AIM initiative, bringing together a coalition of partners in a united effort to help those adversely impacted by this pandemic in Singapore, in particular: entrepreneurs, small business owners, the unemployed and in-transition PMETs, as well as public healthcare workers. 
The events are a series of programs to help these individuals overcome the many challenges, and emerge from the crisis stronger and more resilient. Our three program pillars are: Crisis Management, Career Resilience, and Personal Well-Being.


About Asia Institute of Mentoring 
Asia Institute of Mentoring (AIM) is a non-profit organization with a mission to bring mentoring to the fore in Asia, raise the quality of mentors, and up the standard of mentoring, bringing mentoring to all facets of the society to impact millions of lives. 
It is committed to creating an Asia-based people-powered mentoring movement to move people … to learn, to share, to believe, to give forward, to transform, to harness the deep human potential, and create social impact – bringing about a kinder, gentler, more inclusive, just and sustainable world for all. 
Join us as a member here.