Asia Institute of Mentoring launches the United Against COVID-19 (UNACOV) initiative with the WholeTree Foundation and a coalition of partners in a united effort to support those who are severely impacted by the pandemic, with a focus on crisis management and personal wellbeing.
WHY?

The current coronavirus pandemic sweeping the globe has turned a health crisis into a financial and economic crisis, causing unprecedented disruptions to our modern way of life. Many are suffering, not just from the potential loss of lives and livelihoods, but fear and anxiety. This is a humanitarian crisis in the making, right before our eyes.
WHO?
That's why we are launching United Against COVID-19 (UNACOV) with a coalition of partners to support those who are vulnerable, in particular entrepreneurs, small business owners, unemployed and in-transition PMETs as well as public healthcare workers. We offer personal and small business empowerment programs plus one-on-one mentoring support to help instill resilience and tap sources of hope and optimism for the future. Our goal is that as a community we can emerge from the crisis stronger, more resilient and with a greater sense of purpose.
WHAT?
We are offering online events (webinars) FOC under the following 3 topic pillars:
Crisis Management (for SBOs)


Career Resilience

Personal Well-Being
You can find out about all our events here.
We will also offer one-on-one mentoring support FOC for individuals in need (starting in June).
WHEN?

This initiative will run from 1st May to 15th Dec 2020.
HOW YOU CAN HELP

Individuals & Community:
Be a Volunteer Facilitator or Mentor.
Corporations, Organizations and Associations:

Help spread the word and mobilise volunteer talents in your organization and network.
Get involved here.


The COVID-19 crisis is taking a toll on not just our physical but also our mental health, as published in a recent article on the Straits Times. MindFi one our our partners is playing a part in supporting our Healthcare Workers and PMETS who may be struggling during this crisis. Click here to find out more.

Please write to us at hello@asiainstituteofmentoring.com. We welcome ideas and other support for this cause!

We understand that this is a stressful and anxious time for many of us. If you require mental wellness support, please reach out to Over-The-Rainbow , Singapore's one stop hub for mental wellness.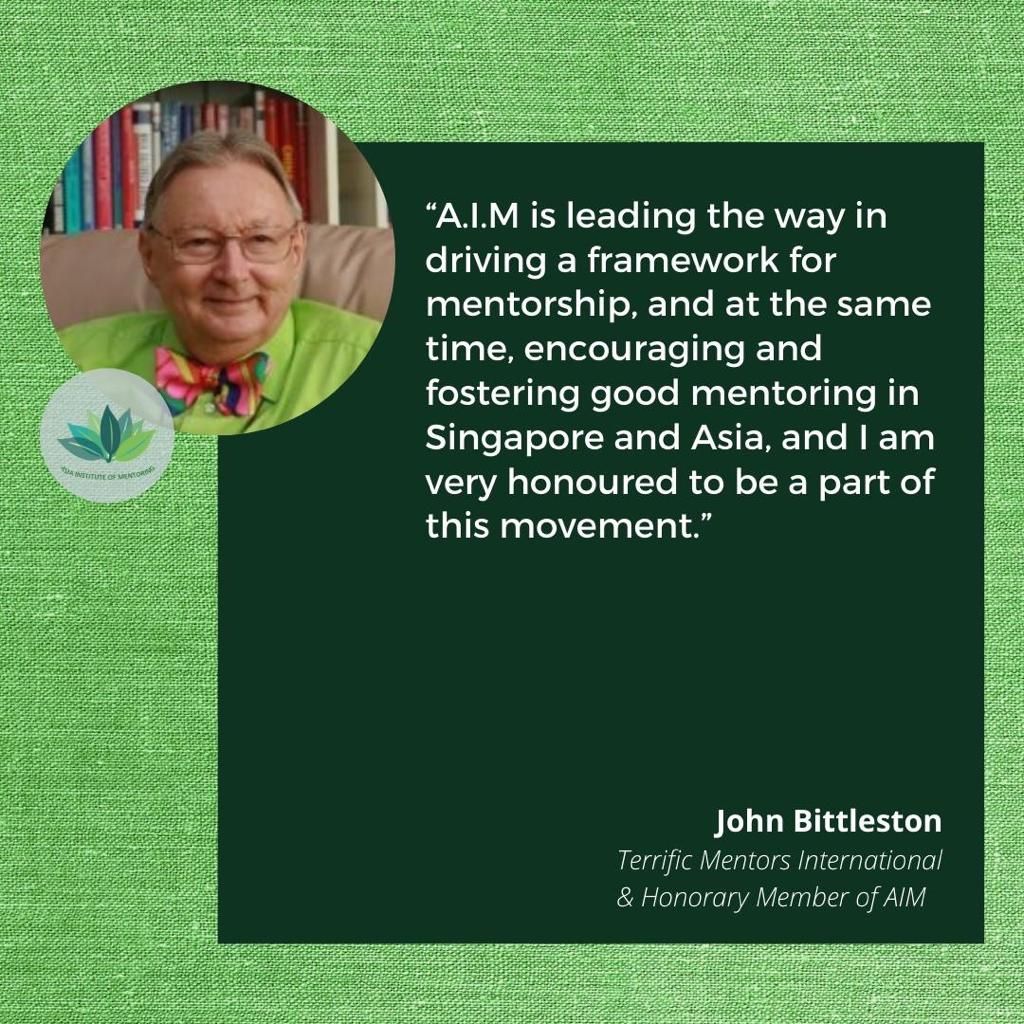 Asia Institute of Mentoring (AIM) is a non-profit organization with a mission to bring mentoring to the fore in Asia, raise the quality of mentors and up the standard of mentoring, bringing mentoring to all facets of the society to impact millions of lives.
A rich body of research shows that highly successful people hardly ever make it on their own. Everyone who makes it has a MENTOR. It is our mission to create this mentoring movement and spread the benefits of mentoring everywhere and at scale. We believe that any organization or business that is serious about talent development and maximising human potential needs to make mentoring a key pillar of their strategy in human resource development.
Our purpose is to create an Asia-based people-powered mentoring movement to give forward, to transform, to harness the deep human potential and create social impact – bringing about a kinder, gentler, more inclusive, more just and sustainable world for all.